Formidable Women Making Mayhem in Merivale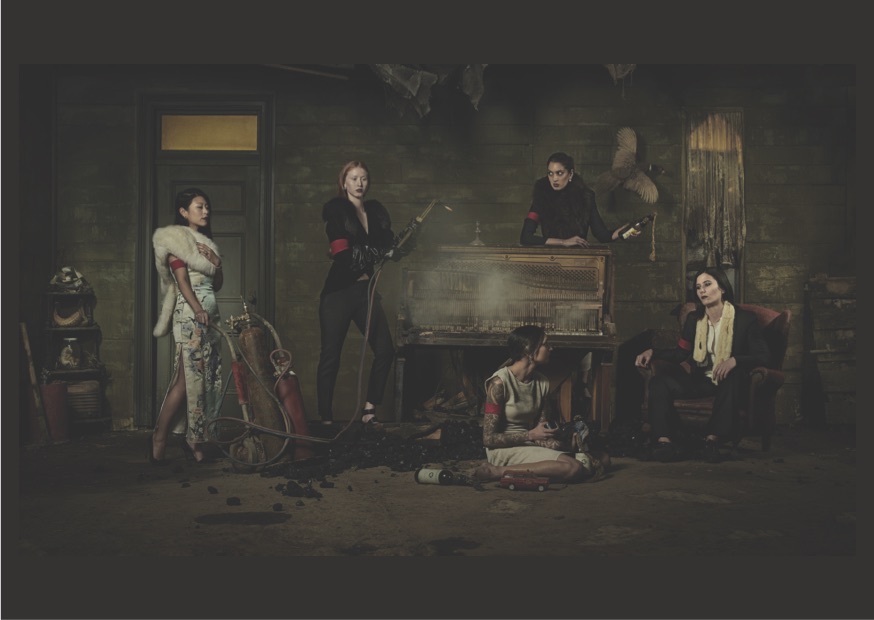 Blazing from the front of Mod's Hair Merivale is a team of formidable women in a POP-UP exhibition running through August & September.
A selection of confronting images from artist Heather Straka's series, Dissected Parlour, has caused quite a stir since their installation at Mod's Hair on Aikmans Rd, Merivale. The photographic artworks are, to say the least, arresting. Taken with impeccably controlled light and fine detail, these evocative pieces are open to a number of interpretations.  Always unafraid to confront racist and sexist stereotypes, Straka's caustic gaze is skewering and illuminating her subject matter right in the heart of Merivale and it's exciting.
About the Artist
Heather Straka's deep explorations into perceptions of socio-political and cultural lives have created a significant body of compelling and controversial work in painting and photography. Always prescient, the wittily observant Straka surfs the cultural pulse of contentious matters, deftly questioning tradition, challenging the politically correct, and subverting stereotypes.
Responsible for this feast of contemporary art being showcased at Mods is Julianne Liebeck, director of Mod's Hair Australia and New Zealand. After seeing the Straka show at the Jonathan Smart Gallery Liebeck was thunderstruck. So much so that she wanted to share it. This triggered a collaboration between SCAPE, Jonathan Smart Gallery Christchurch, and Pegasus Bay Wines (whose varietals are pictured in some of the images).
"I wanted to do something edgy and fresh, something for our customers to savour. It needed to fit with our clients; confident, unafraid and comfortable with the provocative. Hair is our art and it seemed very fitting to be able to share our space with another artist too. The images look like magazine illustrations: art historic radical chic, we felt like it was a natural fit and invite anyone to come into our space to enjoy them".