In 2012, Julianne- Mods Director Visited the Berber villages in the Atlas Mountains, to learn and watch the Production of Argan Oil, and to see exactly where our products come from. Argan Oil is now becoming something frequently heard of and used in Hair and Beauty Products.
Therefore, with Julianne's knowledge on this product, she educated our team and brought in a Permanent Colour called Nectaya it adds nutrients to your hair and protects it. The use of Argan Oil not only is good for your hair, but is helping support Communities around the World.
Kerastase's new Aura Botanica Range will not only benefit you and your hair, but it will also promote Happy Workers around the world. Stocking Kerastase's new Aura Botanica Range with the combination of Argan Oil and Natural Origin means we are reminded of the benefits for your hair and the communities who receive an income from the work to make these oils.
We suggest reading about the Berber Villages and Kerastase's new initiative, to inform yourself on our changing world.
The Berber Villages
Written by Julianne Liebeck, Director of Mods
Over the last few years, a product has entered our industry that many were dubious of- the claims were spectacular, but there was very little research to back them up- yes we are talking about Argan Oil.
Research has since been conducted that shows its nutritive and protective properties for hair – and it's now available in the best product's we have to offer – the Nectaya range by Goldwell.
Argan Oil is one of the rarest oils in the world and is produced from the kernels of the Argan tree. The trees grow exclusively in a small area which is nestled away in the Atlas Mountains of Morocco, just north of the Sahara. The production of Argan oil is time consuming and labour intensive with the process of extracting the kernel from the nut still being carried out by hand. Attempts to automate the process were unsuccessful; however, this was a silver lining for the community as it created jobs for the villagers, with the majority of production being carried out by women's co-operatives.
I was fortunate enough to visit the Berber villages in the Atlas Mountains where I was able to witness the production of Argan oil first hand. I visited the area not only to learn where our products come from, but also for the passion I have for entrepreneurial women in developing countries. The women's co-operatives that produce the oil also play a major social role. As well as providing women with employment and social status, the income earned by the workers allows them to fund their children's education.
The environmental impacts have also been positive. The deep root system of the Argan tree prevents soil erosion which has helped protect the region from the destructive spread of the Sahara Desert.  As the world starts to fall in love with this traditional and beneficial product, that not only helps our skin and hair, but an entire society and environment – what's not to love.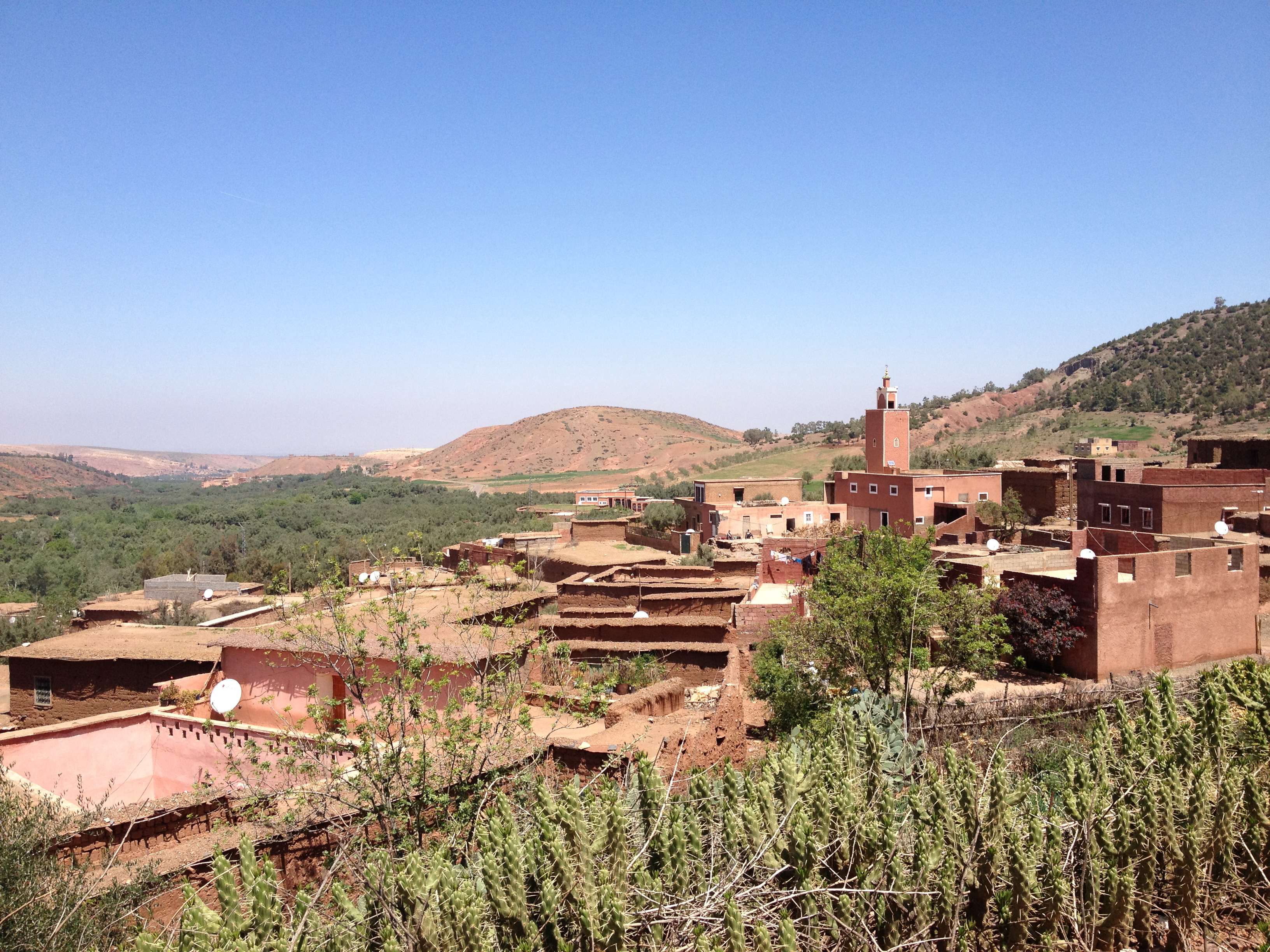 The Berber Villages, Morocco
An Environmentally Friendly, Vegan Range, offering your hair all the nutrients it needs!
Kerastase Aura Botanica Range
Kerastase has made themselves aware of our worlds environmental changes. They are starting to take initiative themselves. Their beautiful new Aura Botanica Range, ticks the boxes for a sustainable, recyclable, biodegradable product. The program they have set up supports the environment, while also providing an income and employment for 200 workers in Samoa and 100 Women in Morocco.
The product itself a beautiful blend of 98% Natural Origin- Argan and Coconut Oil. The beautiful Argan Oil is hand pressed in Morocco. We know how amazing the benefits of Argan Oil are, it leaves the hair feeling softer and helps to tame frizz. The Coconut Oil is hand pressed in Samoa, benefitting the wider community, helping with their schooling, housing and health training programs. While the packaging supports their efforts in helping our environment with the bottle being made 100% from recyclable material. It is biodegradable, meaning it can completely break down.
What can this range offer your hair?
 This active ingredient product, will leave a 4x shinier finish in your hair, leaving it feeling soft and beautiful. With no silicones, sulfates or parabens, you will have weightless, durable hair, 'Leaving hair feeling light and alive'.
The Ultra-rich Argan Oil with preserved active ingredients of Omega 6 & 9 leaves a natural glow and softness, on the hair. The double hand- pressed organic, virgin coconut oil with Lauric Acid provides nourishment and health to protect your hair making it feel strong and pure.
The Fragrance of the product is made up of beautiful citrus and herbs, combined with a soft floral. Our favourite scents are the pink grapefruit, jasmine petals and rich vanilla.
You will find 4 beautiful Products in this range:
 Bain Micellaire- Shampoo
A Gentle Shampoo with a mix of natural origin, that helps with cleansing away impurities. This Shampoo prepares your hair for the conditioner. It is vital to use this product with the Soin Fondamental, to achieve its optimal results.
 Soin Fondamental- Conditioners
This product is a creamy, 97% natural origin, rich conditioner, lighter than a masque. With Coconut and Argan Oil, it will offer your hair 48 hours of nutrition. It will detangle and improve your hair quality, leaving your hair feeling stronger, shinier and nourished. Your hairs surface is smoothed, feeling weightless and healthy.
Concentre Essentiel- Oil
This delectable oil is made up of 99% Natural Origin Oils, nourishing your hair and can be used before shampooing, as a final touch or a massage oil on your skin.
Essence D'eclat- Oil
A moisturizing Oil Mist, which helps to controls frizz. This Nourishing formula is best for dull, devitalized hair offering a moisture feel to towel dried hair.