New Zealand Fashion Week has just wrapped for the year, debuting the next big trends for fashion, beauty and hair.   In just a few days, so many trends are shown on the runway, but which translate well into an everyday look?
We've done the hard work, breaking down the hair trends shown on the runway and selecting our top five looks from five top New Zealand designers.  We're picking these trends will be big for the season ahead, so take note!
Moochi
Moochi made a nod to the 70s, showing two ultra vibrant looks. The first being very Kate Moss inspired with lush loose beachy waves to reflect a relaxed boho look. The second vouching very sleek and polished pulled back hair but with a touch of simplicity by adding the perfect back tied braid.
Hailwood
The hair in Hailwood was influenced by the idea of the 'ultimate girl', you know, that one that can do no wrong? Hair stylists envisioned a romantic idea of a girl who goes swimming, swings her hair up into a perfect knot and slips on her evening gown, only to jump into a Mazerati.  They used 'a lot of water' and Goldwell Crystal Diamond Gloss to create the slick look of loose hair and classic French knots.
Sean Kelly
Two distinct hair styles were debuted on the runway for Sean Kelly's show.  The first was a pulled back twist that was heavily constructed and sleek that sat neatly on the neckline of Sean's garments. The second look was a straight haired look, pulled back. Sean created neck ties that Matt used to tie around the neck and hold the hair in place.  Tucked in hair has been a growing trend, and Sean Kelly's show absolutely confirmed this!
Ruby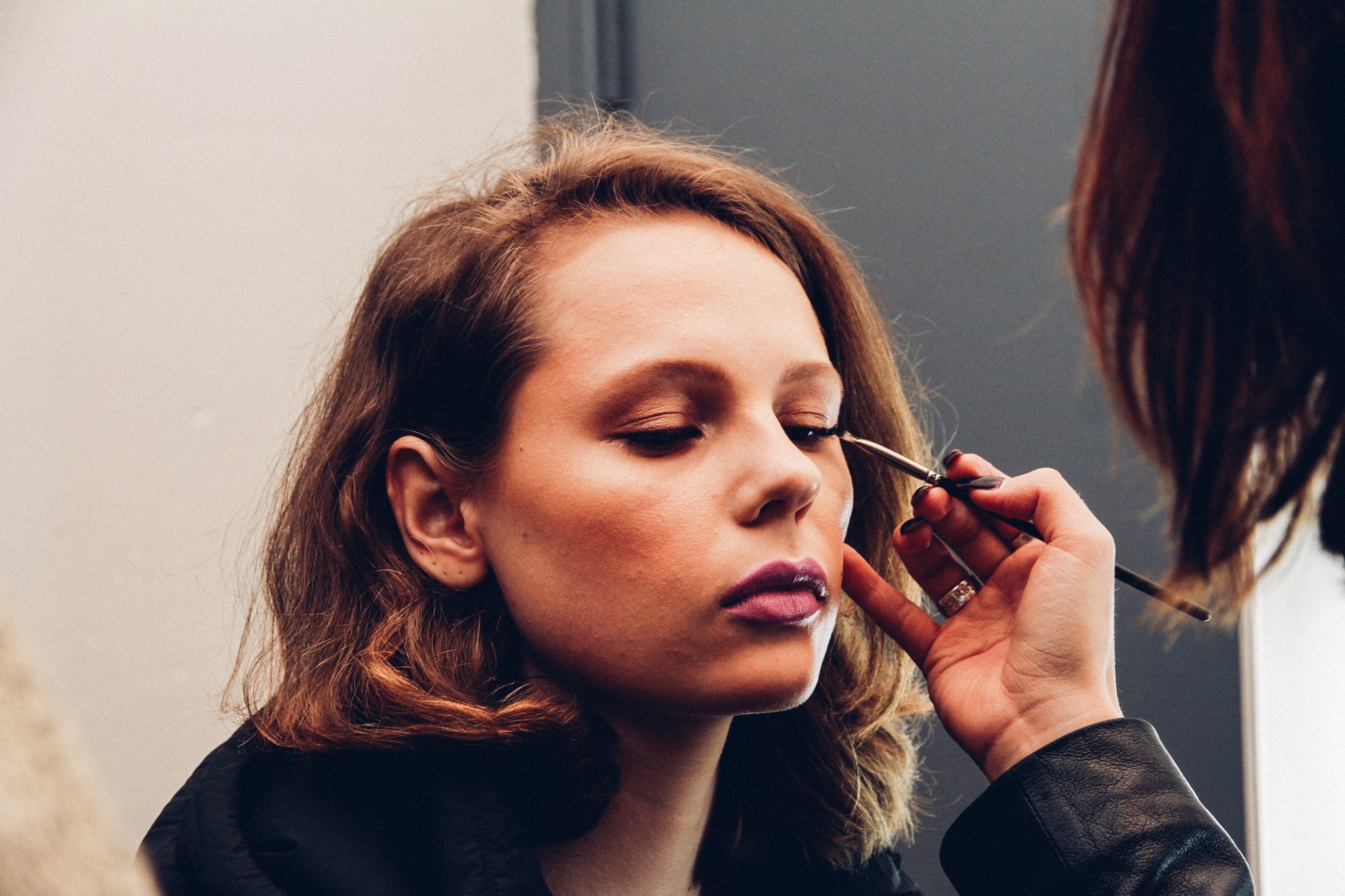 RUBY's hair inspiration was Jane Birkin. The hair is soft, organic, unstructured and 'undone'.  The goal was to have natural beachy waves.  This was achieved by using the ghd curl hold spray to add the gritty texture. Then the hair was sectioned to parts and plaited then ran through a heated styler to seal movement and add shine.  After a bit of time, the plaits were unravelled to reveal natural waves. Lastly, fringe pieces were added to nail the classic Jane Birkin look.
Zambesi
Hair was a grunge take on the 70s, and hair stylists wanted to create a dry, lived in look.  Stylists used dry hair styling products to lift the hair's root, and create more texture.