Unless you're a morning person bestowed with the gift of waking up gracefully and unperturbed, chances are high your a.m. routine may be more of the rushed variety.  What's the harm in just a few more glorious moments of slumber, after all?
Well, for one, the state of your hair, which is usually a dead giveaway of a hurried, harried morning.  Though model-off-duty strands are having a moment right now, there's a fine line between artfully tousled and tousled by your pillow; luckily, you don't have to sacrifice finesse next time you press snooze (for the third time).
Ahead, you'll find five simple and chic hairstyles that will take three minutes or less to execute—leaving more time for you and your beauty sleep.  Keep scrolling to see them all! 
Triple Twisted Pony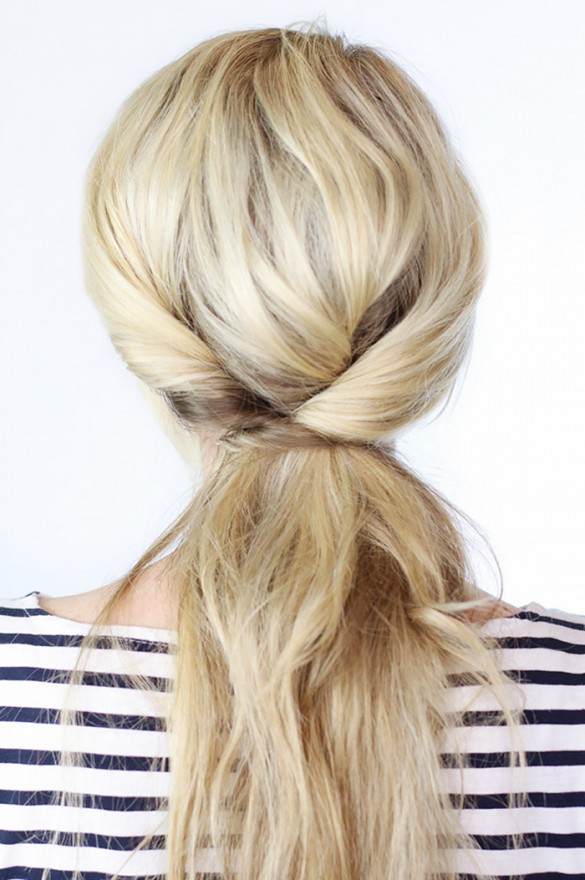 Give your go-to low pony a chic update with this twisted, teased variation. Divide your hair into three sections—left, middle, and right—then twist the middle section toward the right, pinning in place. Twist the left section toward the right and pin in place, then twist the right section toward the left and pin in place over the other two sections. Give it a little tease, and be on your way.  You can see the full tutorial here.
The Half-Up Knot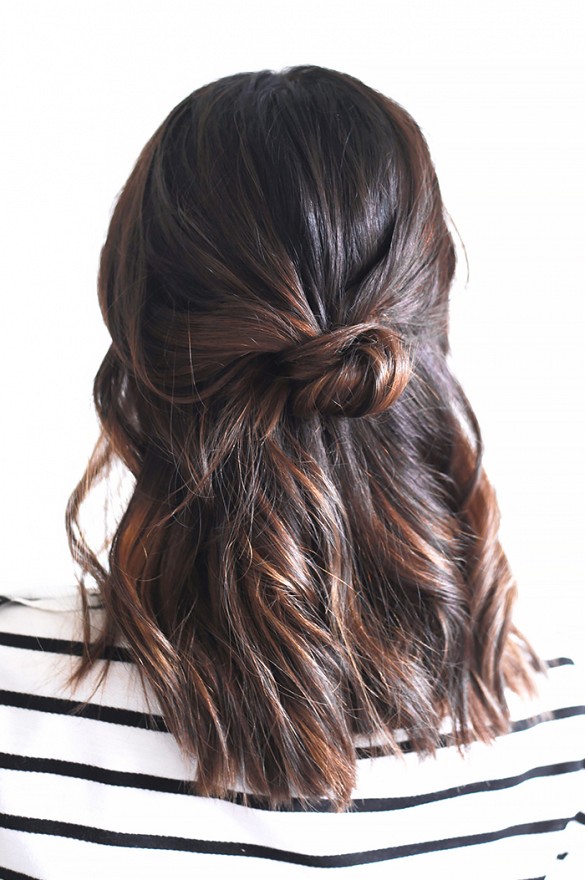 It doesn't get easier than this knotted half-updo. Take one two-inch section of hair on either side of your head and gather them together in the back. Twist the sections together as one, twist it into a knot, the tuck the ends under and pin in place.  Here's a visual guide.
Braided Half-Crown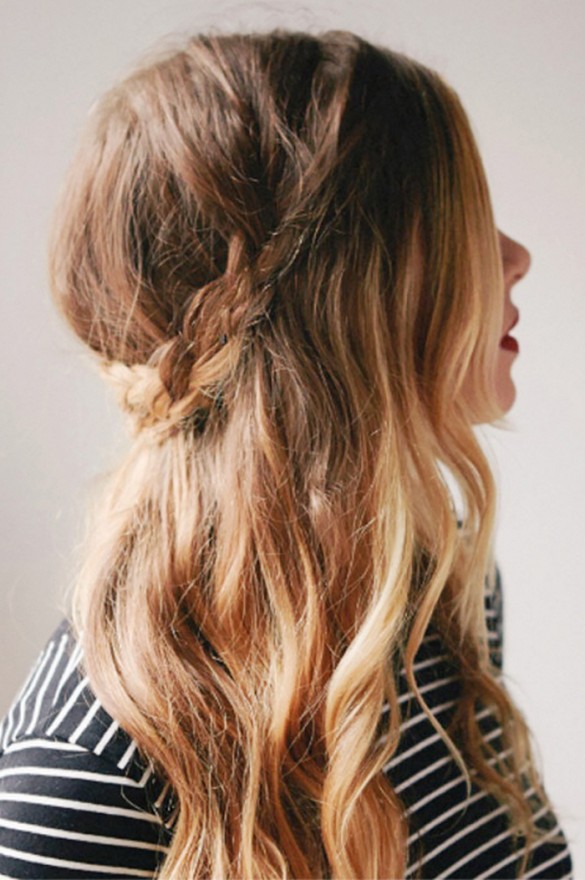 Braid an approximate 3cm section of hair on either side of your face, and secure each end with a mini hair elastic. Then, just cross each braid over the other and tuck the ends out of sight. Pin everything in place, and flaunt your princess-worthy hair.
Cool-Girl Chignon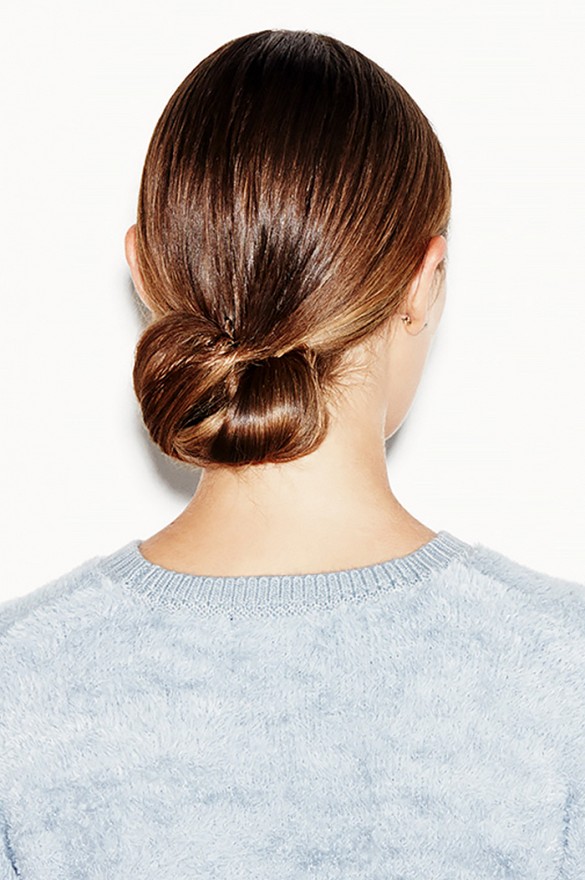 We love this low bun for being the cool girl's version of a classic chignon.  Click for the full step-by-step tutorial (it's ridiculously easy!).
The Double-Knotted Pony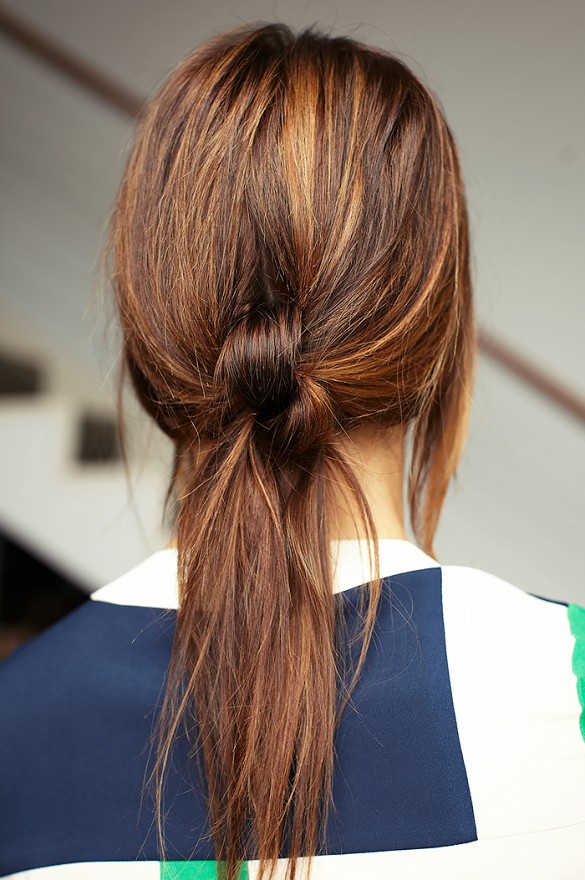 Before you start, know this: This hairstyle works best on those with fine, thin strands. Split your hair into two sections and tie them in a knot—then, just knot them again. Pin it all in place with a hairpin, and spray some hair spray to keep it from moving.